Welcome Mama!
Staying active during your pregnancy is so important! But why should you choose Fit4Baby? Keep reading, we'll tell you what sets this program apart!
What is FIT4BABY?
FIT4BABY® is designed specifically for moms-to-be. All exercises are carefully selected to prepare your body for the many changes you will experience during pregnancy. You can begin FIT4BABY® at any point during pregnancy as the workouts are scientifically- based, purposeful and designed to accommodate your changing body. The 60-minute workout includes cardio, strength, balance, and flexibility training and ends with a relaxing meditation; everything you need during this precious time!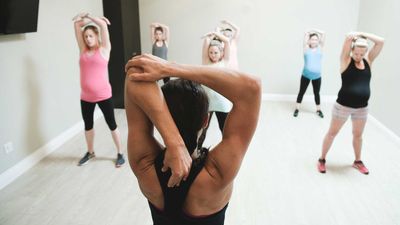 Our Fit4Baby instructor team is certified in prenatal fitness. They follow the American College of Obstetrics & Gynecology's (ACOG) guidelines for exercise during pregnancy. They are trained to offer you various intensity options, so regardless of your trimester, your fitness level, or your current aches and pains, you'll find a workout that is just right for you at every single class.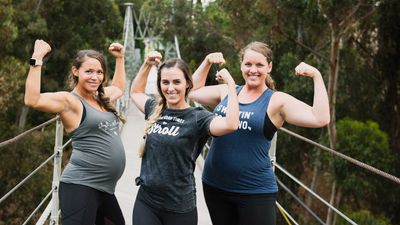 When you enroll in FIT4BABY, you'll be added to a private Facebook community just for mamas in your session. Connect, ask questions, get support. Everything from where to buy the best maternity pants to which pediatrician to use. This group of women has you covered!

Pregnancy and motherhood can be isolating. Having a village of moms is necessary! Come meet a group of women who will have your back through your pregnancy, through the newborn stage, through toddlerhood, and beyond. Like all classes at FIT4MOM, Fit4Baby offers a judgement free, inclusive, supportive environment where EVERY mom is welcomed and celebrated!
What local moms had to say:
"FIT4BABY was a wonderful support during my third trimester to keep active and prep for labor. Class sessions helped me relax and learn more about my pregnancy and childbirth from other moms. They were a great support to boost my confidence." - Sachi
"Fit4Baby has been the best platform to incorporate exercise into my pregnancy in a safe and fun way! The workouts are fantastic, the instructor is wonderful, and the interaction with other moms and moms-to-be really elevates the experience. There is something so rewarding about taking the time to care for your body and your baby and to do it with women who are in a similar stage of life. Highly recommend!" - Pregnant Mama
"Mary was so great. She had high energy and was a great connector. It was really nice to get to know other mommas that were in the same stage of pregnancy." - Lauren B.
"What an awesome setting to meet other moms, and do something for you and your baby! Low pressure, supportive and inviting setting made me look forward to the next class each week." – Alycia
All Trimesters and Fitness levels are Welcome
Send your questions or comments to Mary
marypust@fit4mom.com
406-272-3604